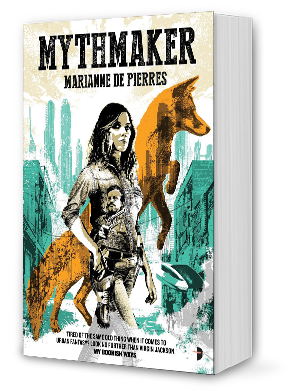 Marianne De Pierres's latest book
Mythmaker
is the second in her Peacemaker series, featuring Ranger Virgin Jackson and Nate Sixkiller. I really enjoyed the first book and you can read my review of it on the
Newtown Review of Books
.
In
Mythmaker
...
Virgin's in a tight spot. A murder rap hangs over her head and isn't likely to go away unless she agrees to work for an organisation called GJIC with Nate Sixkiller as her immediate boss. Being blackmailed is one thing, discovering that her mother is both alive and the President of GJIC is quite another. Then there's the escalation of Mythos sightings, and the bounty on her head. Oddly, the strange and dangerous Hamish Burns is the only one she can rely on. Virgin's life gets… untidy.
I caught up with Marianne and asked her a few questions about the book what's next.
Keith -
The ending of Peacemaker opened up Virgin Jackson's world to a whole range of new possibilities. No spoilers, but can you say anything about what Virgin will be up to in Mythmaker, and how her relationship with Nate Sixkiller develops?
Marianne -
Mythmaker develops the fantastical side of the story, and we begin to learn more about the Mythos and their intentions. Nate and Virgin continue to get to know each other better and Virgin's prickly disposition is somewhat softened by Nate's integrity and events that are happening with her best friend Caro. Virgin also makes contact with her estranged brother, and he features in a key role in the second volume. Surprisingly though, it's Hamish who gets a lot of air time. He kept nudging his way back in as I was writing because he intrigues Virgin so much, and me as well. Lastly, Virgin's deceptive ex-partner, Heart, bumps heads with her a few more times. The pace is intense.
K -

They say the characters in a book are all alter-egos of the author. What do you identify with most strongly in Virgin and is there anything she does that you wouldn't even consider in a pink fit?
M -

Well, I hope I'm not as anti-social as she is, but I do relate to her love of the land and her suspicion toward people she senses are duplicitous. I most certainly am NOT so nearly courageous or hard-nosed as her though, and for the record, I don't have a disincarnate or see visions!
K -

Peacemaker has already spawned a graphic novel and a you have a Spotify soundtrack for the book. Did these additional elements play into how your imagination expanded the story into subsequent books?
M -

These companion works help build the richness of the world in my mind. I think there's often a presumption that spin offs from a single project are driven by the notion of 'cashing in' but for most creative people, they're just another excuse to stay in the wonderful fictional worlds that they've created. There's a fictional feedback loop that occurs when you expand across platforms, which makes the worlds and the characters stronger, more realistic, and more engaging. Anything to avoid the real world, eh?
K -

What's up next for MDP?
M -

I'm working on the next Tara Sharp (#4) novel, which will be out next year from Twelfth Planet Press. It will be great to see the series finally released internationally. And after that my next project is the novel I'm writing as part of my studies into feminist SF. It keeps changing form, but it's currently got the working title of The Once and Future Past. It's SF, with a touch of historical fiction and some other elements. Not quite alternate history, but something close to it. Think of Ash by Mary Gentle but framed by a late 21st Century dystopia.
Thanks, Marianne. Mythmaker is published by Angry Robot Books and it's available everywhere. You can find purchase links at the Angry Robot website. And for more about Marianne, head over to marianneddepierres.com.