My annual shout out on some amazing stories to enjoy.



Perspolis Rising

- James SA Corey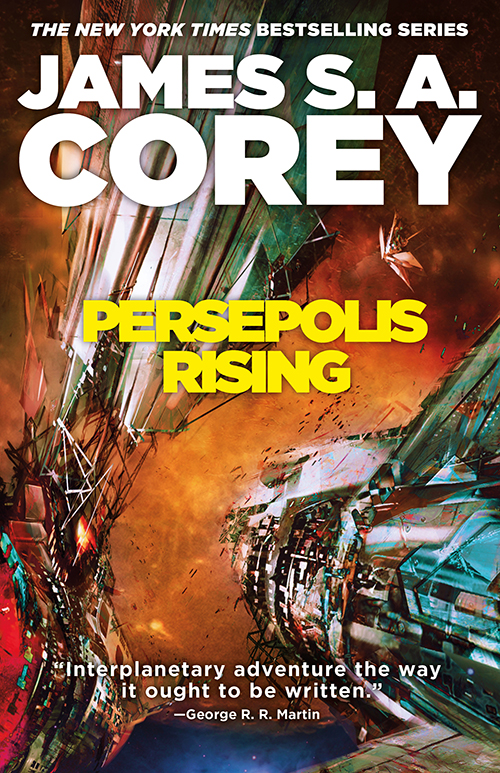 Hot of the press, I'm reading this right now, but if you haven't read any Expanse books (or seen the TV series on Netflix) get into it. This is book 7 and the adventures of the crew of the Rocinante have been fantastic up to now. Persepolis Rising takes a huge gamble, skipping forward 30 years (so substantially ageing our favourite protagonists) but the writing duo that is James SA Corey know what the hell they're up to and they have a game plan for the next two novels already contracted after this one, so have faith!
In The Dark Spaces

- Cally Black
Ampersand Award winning Kiwi author Cally Black's
In The Dark Spaces
is a surprising and original YA novel. Set on a spaceship way out between the stars, the story is tense and – true to the title – often dark, but the young heroine, Tamara, has a really engaging voice and a big heart that won't let her give up trying to find her lost little brother. If you have a youngster you want to indoctrinate in the ways of sci-fi, I really recommend it.
The Silent Invasion

- James Bradley
There are books you just fall in love with when you read them as a young person. For me they included Alan Garner's
The Weirdstone of Brisingamen
, Susan Cooper's
Under Sea, Over Stone
and Ursula K Le Guin's
A Wizard of Earthsea
. Others come to mind that I enjoyed as an adult because they gave me that same kind of feeling: John Christopher's Tripod books, John Marsden's Tomorrow series and so on, all of them treasured by one generation or another.
James Bradley's The Silent Invasion delivers just that feeling. A brave young person standing up against the injustices of the world they live in, taking risks to save those they love, being confronted with terrible trials and overcoming them. The story is timeless, but Bradley makes it relevant to now: the idea of a planetary environment that is hostile is – sadly – a very contemporary idea that children growing up now will have to confront as a reality in the not too distant future. The book also riffs on very familiar SF tropes like The Invasion of the Body Snatchers and The Day of the Triffids as well as more modern films like Gareth Edwards's 2010 indie sci-fi flick Monsters. But it's all the more compelling for that because the story telling feels so fresh. The plot flies by effortlessly and the writing is clean and compelling – which means Bradley has put a hell of a lot of effort into it – and the ending just makes you want to devour book two.
The Road to Winter

- Mark Smith
Australian author Mark Smith set out to write a page-turner and achieves this beautifully. The Road to Winter is a great addition to YA post-apocalyptic fiction focusing very tightly on the after-effects of a plague on the likable protagonist Finn. Left alone in a deserted town on the NSW north coast, he survives quite well for a couple of years, hunting with his faithful dog Rowdy and hitting the surf like a typical teenager when it all gets too much. But his solitude is shattered when escaped refugee Rose comes to his small town.
The writing is pared back, clean and vivid, and Smith tackles personal timeless issues of growing up along with contemporary problems of today's Australia while keeping the action thrumming along. Book two, Wilder Country is out now and promises to expand Finn's world. It's on my 'to read' list.
The Stars are Legion

- Kameron Hurley
The Stars Are Legion is refreshing on so many fronts. Firstly it's a stand-alone, so not weighed down with all that a trilogy entails. Secondly the world building and technology is visceral - literally: bio-organic spray-on spacesuits,walls and floors on the 'spaceship/worlds' of the Legion that feel moist to the touch, petal-like doors that unfold, cephalopod guns, willing dolphin-like attack craft that you sit 'on' rather than 'in', interchangeable wombs that grow people and ship parts - it's like Cronenberg wrote an SF novel. Thirdly the writing is fresh and tight and the characterisation and plotting is intriguing.
Zan wakes with no memory on the ship/world of the Katazyrna. But she has been here many times before, and she's told by Jayd, daughter of the Katazyrna leader, that she has failed once more in a plot they share to gain control of the free ship/world of Mokshi and must try again. It's up to Zan to learn what is true and false in the worlds of the Legion and what really matters.
Paranoia and treacherous intent build beautifully under Hurley's tight control and the worlds of the Legion get weirder and weirder as Zan discovers the truth of the spaces they inhabit and what has happened during her countless previous failures.